This round-up is cross-posted from the Eviction Resistance Network blog.
We've been keeping track of squat related activity since September 1st when squatting in residential building was made illegal. Here's a quick round up:
GLASTONBURY A few days ago we reported that 5 individuals were, to our knowledge, the first to be arrested under the new law. Coincidently, it has also been revealed that proposals to make more emergency accommodation for homeless young people in Somerset have twice been turned down by planners. We understand the Squatters Legal Network are keen to support those arrested. Here's more information from the local press in Somerset:
http://www.thisissomerset.co.uk/Squatters-kicked-Street-house-law-changes/story-16839585-detail/story.html
CHICHESTER Last Saturday, Police visited a squat in Chichester after the owner asked them to get the squatters out. It is reported that the squatters left of their own accord and no arrests were made. Local homeless charity Stonepillow was critical of the new legislation. "It is also worth noting that many of the properties occupied as squats are 'disused, empty buildings' and some squatters choose this option as opposed to sleeping rough."
http://www.chichester.co.uk/news/local/chichester-squatters-evicted-after-new-legislation-comes-into-force-1-4225220
BRIGHTON The squatters arrested following a police raid on a part residential property were charged with abstracting electricity, obstructing a police officer and the offence of squatting in a residential building. They were bailed unconditionally until they appear in court in October. Keep up to date here:
BIRMINGHAM Housing activists and homeless people have been threatened with court proceedings if they do not vacate the council owned residential building they are occupying. A spokesperson for the group stated that there were genuinely homeless people sheltering in the building who will be forced out onto the streets again. More info here:
http://www.indymedia.org.uk/en/2012/09/499567.html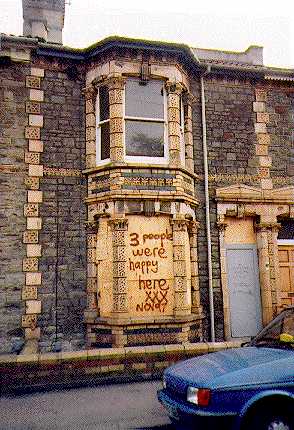 BRISTOL One squat, and possibly a second, has been closed down using the new legislation. Another has been served court papers. One person was arrested and then released without charge.
http://www.indymedia.org.uk/en/2012/09/499620.html
LONDON We don't have any more information on the six people arrested in Southwark yet but we'll update as soon as we do. Other than those arrests, London has been reasonably quiet. We're getting a lot of reports of landlords/police giving squatters notice to leave rather than them attempting to enter the building and arrest them. Other residential squats which are awaiting eviction/court proceedings don't seem to have been affected. The metropolitan police seem quite reluctant to enforce this legislation. Probably because when they signed up to becoming a police officer they were more interested in dealing with real crime not turfing homeless people out of empty houses.
So. That's the update from us. Solidarity to all. Let us know if we've missed anything out!